Cottage Organics
Regular price
Sale price
$12.00 USD
Unit price
per
Sale
Sold out
Certified Organic Pet Shampoo, Designed for Sensitive Skin
Just like you, Cottage Organics has a long standing love for our furry friends. Our Pet Shampoo was the very first organic topical product that Cottage Organics had certified to USDA organic standards.

Our Pet shampoo provides a safe, natural, and nontoxic alternative to the detergent chemical shampoos nearly every other pet shampoo is made from. This is ideal for pets with sensitive or dry skin. Groomers and pet lovers across the country rely on our Pet Shampoo to keep their pets smelling fresh without irritation or chemicals. This pet shampoo rinses clean and works beautifully on your animals.
This statement has not been evaluated by the Food and Drug Administration. This product is not intended to diagnose, treat, cure, or prevent any disease.
All of our bar soaps produce plenty of suds, stays firm and has lots of fragrance that lasts after getting out of the bath or shower, giving you a wonderful clean and stay with you but subtle pleasant smell.
Makes a great gift for anybody, great fragrance for anybody.
All of our bar soaps are cold process and handcrafted in Meadville, PA, USA
Share
Ingredients

Ingredients:
Organic Coconut oil,Organic Olive oil Organic Jojoba oil, Organic Rosemary Essential
Oil, Organic Lemongrass Essential Oil, Organic Rosemary Extract, Organic Aloe Vera
Size

16 Fluid ounces/ 473 ml

Packaged in a bottle that the outer shell is made of recycled paper and cardboard infused with vegetable wax and is compostable and recyclable. Th inner liner is made from 100% recycled plastic and is recyclable
How to Use

How To Use Our Pet Shampoo

Wet your pet.

Work in well and rinse well.

If your pet has a particularly thick coat, it sometimes helps to dilute the shampoo 30% to 50% to allow the shampoo to saturate the
coat.

We suggest using warm water instead of cold water straight from the hose (your pet will thank you too).

If your animal is sprayed by a skunk, neutralize the odor with ketchup or
vinegar before wetting, then wash the affected areas twice with our Pet Shampoo.

Be careful around the eyes; soap will sting.

Since it's natural and organic, it won't hurt them if they lick it or taste it.

Dry your pet off, and enjoy some quality time with your best pal!

Happy Washing!
View full details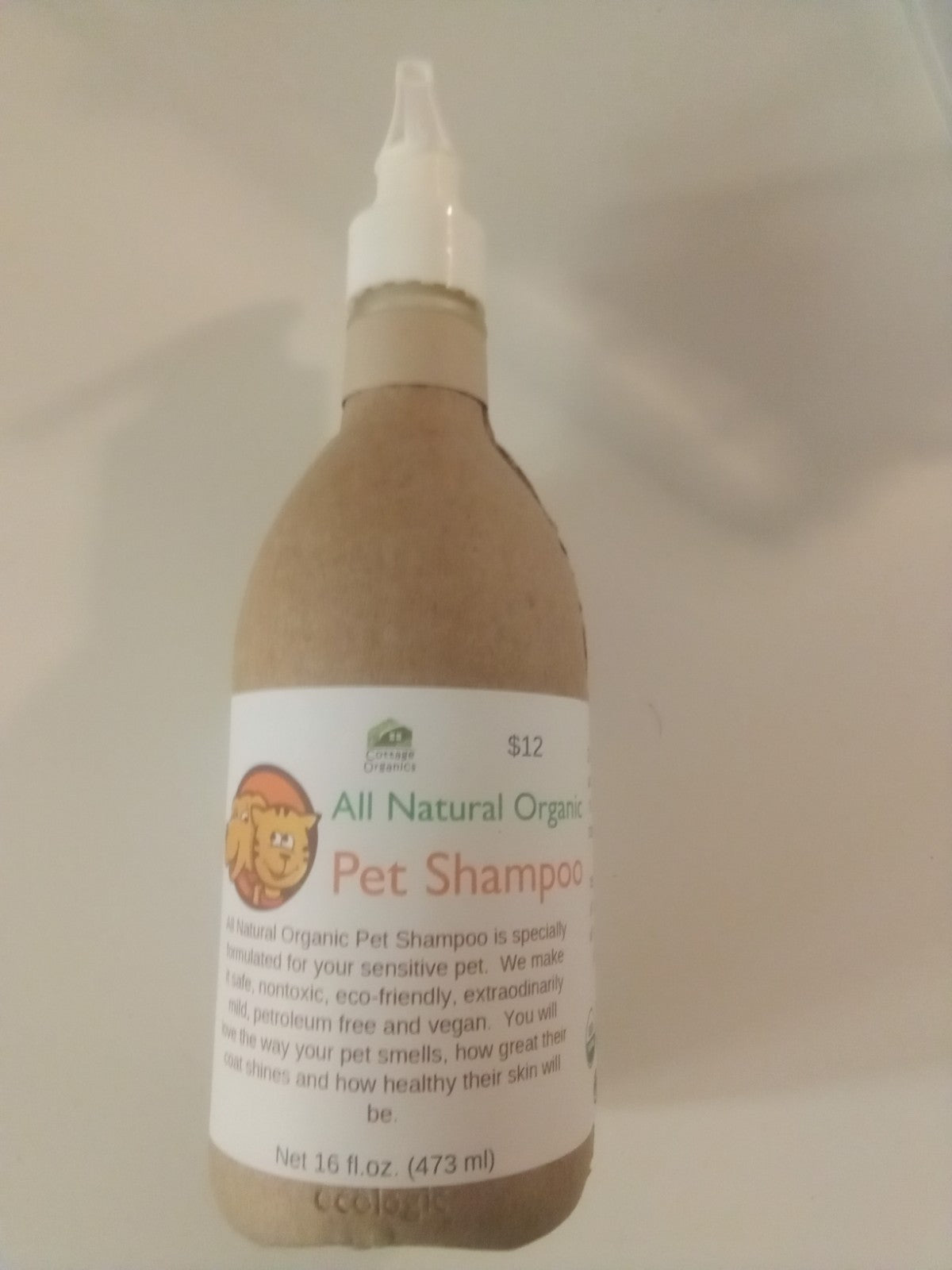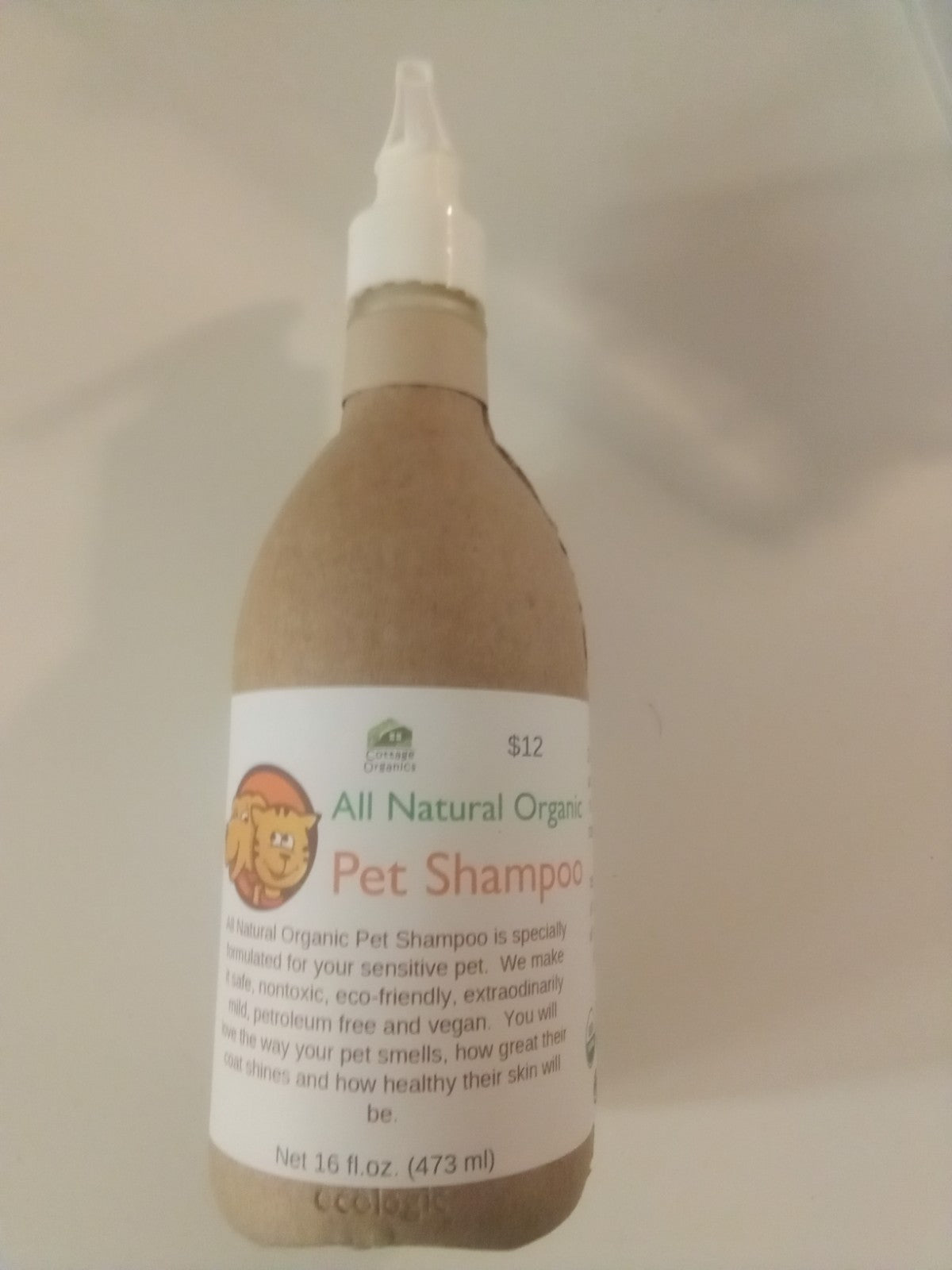 Organic Pet Shampoo
This bar soap is certified Organic, certified Vegan , Non-GMO and Cruelty free. None of our products are ever tested on animals and are completely safe to use. Please read ingredient list for possible allergens.
Satisfaction Guaranteed.